Read Time:
4 Minute, 39 Second
NAINITAL: Almost five years after the process of its installation began in 2017 and a month after it became operational, the International Liquid Mirror Telescope (ILMT) at the Devasthal observatory complex in Aryabhata Observational Science Research Institute (ARIES), believed to be Asia's largest, has captured its first shot of the sky, also called "first-light image".
As opposed to traditional glass-mirror telescopes, which can be pointed in any direction in the sky, liquid-mirror telescopes can't be moved and they study one strip of sky vertically above it night after night for signs of movement of celestial objects like supernovae, gravitational lenses, space debris, asteroids, said Dr Kuntal Misra, project investigator and scientist at ARIES.
"This mode of operation increases efficiency of observation and makes telescopes particularly sensitive vis-a-vis dim sources," said professor
Paul Hickson
of
University of British Columbia
, Canada, an expert in liquid mirror technology. The project is a collaboration between India, Canada and Belgium among other countries.
According to ARIES scientists, a 4-metre-diameter reciprocating mirror made of a thin layer of liquid mercury is used to identify transient or variable sources in the sky. As in any liquid mirror telescope, the disc containing the mercury in the ILMT rotates continuously, at a constant speed of eight rotations per minute, so the liquid takes on a parabolic shape, which is ideal for focusing light. The reflected light passes through a sophisticated multi-lens optical corrector that produces clear images over a wide field of view. A large-format electronic camera located at the focus records the images.
The liquid mirror telescope is an improvement on the glass telescopes, Misra said. "The ILMT has a much simpler design compared to the conventional telescopes with glass mirrors. It is easier to clean and maintain and its upkeep cost is lesser than a conventional telescope of the same size. Glass mirrors used in conventional telescopes have to fulfil very stringent criteria, so they take up a lot of time and resources. While telescopes with glass mirrors can be pointed in any direction in the sky, they are made to observe a very small slice of the sky. Liquid-mercury mirrors have a much wider field of view."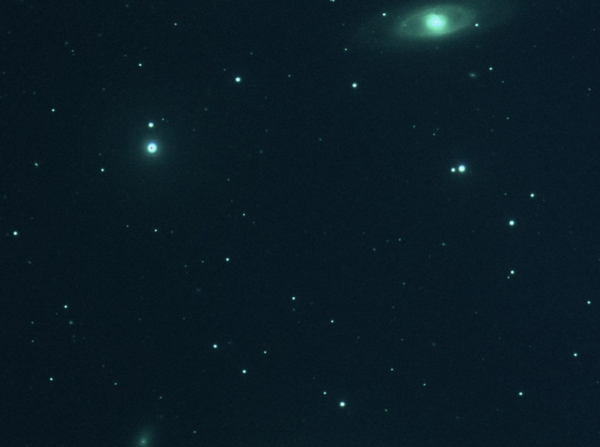 "The installation of ILMT started in 2017. It became functional a month ago and this is the first time that it has captured light. The 'first-light' image, as we call it, was taken through the telescope after a month's study. A liquid telescope can closely study events occurring daily in the milky way and help uncover future changes," he added.
Director of ARIES, professor Dipankar Banerjee, said, "The ILMT installed at the Devasthal Observatory is the first ever liquid-mirror telescope specially designed for astronomical observations. Now the Devasthal observatory has two four-metre range telescopes — ILMT and the Devasthal Optical Telescope (DOT) (a 3.6 metre device with spectral and imaging capabilities at visible and near-infrared bands). Both of these are largest-diameter telescopes available in India.We are happy with the quality of the first-light image. It could use some refinement and we will get to that in the coming months. Data pipelines used to process images taken with the telescope are in the development phase."
Dr Brajesh Kumar, ILMT project scientist at ARIES, said, "Once the ILMT starts regular scientific operations by the end of the year, it will produce approximately 10 GB of data each night, which will be analysed to find variable and transient stellar sources."
Collaborators on the ILMT include ARIES, Liaz University and Royal Observatory of Belgium, Poznan Observatory in Poland, Ulugh Beg Astronomical Institute of Uzbek Academy of Sciences in Uzbekistan, Canada's University of British Columbia, University of Laval, University of Montreal and University of Toronto, University of York in England and Victoria University in Australia. The telescope is designed and manufactured by AMOS Corporation and Centre Spatial de Liège, Belgium.
!(function(f, b, e, v, n, t, s) {
window.TimesApps = window.TimesApps || {};
const { TimesApps } = window;
TimesApps.loadFBEvents = function() {
(function(f, b, e, v, n, t, s) {
if (f.fbq) return;
n = f.fbq = function() {
n.callMethod ? n.callMethod(…arguments) : n.queue.push(arguments);
};
if (!f._fbq) f._fbq = n;
n.push = n;
n.loaded = !0;
n.version = '2.0';
n.queue = [];
t = b.createElement(e);
t.async = !0;
t.src = v;
s = b.getElementsByTagName(e)[0];
s.parentNode.insertBefore(t, s);
})(f, b, e, v, n, t, s);
fbq('init', '593671331875494');
fbq('track', 'PageView');
};
})(
window,
document,
'script',
'https://connect.facebook.net/en_US/fbevents.js',
);if(typeof window !== 'undefined') {
window.TimesApps = window.TimesApps || {};
const { TimesApps } = window;
TimesApps.loadScriptsOnceAdsReady = () => {
var scripts = ['https://static.clmbtech.com/ad/commons/js/2658/toi/colombia_v2.js',
'https://www.googletagmanager.com/gtag/js?id=AW-877820074',
'https://imasdk.googleapis.com/js/sdkloader/ima3.js',
'https://tvid.in/sdk/loader.js',
'https://timesofindia.indiatimes.com/video_comscore_api/version-3.cms',
'https://timesofindia.indiatimes.com/grxpushnotification_js/minify-1,version-1.cms',
'https://connect.facebook.net/en_US/sdk.js#version=v10.0&xfbml=true',
'https://timesofindia.indiatimes.com/locateservice_js/minify-1,version-12.cms'
];
scripts.forEach(function(url) {
let script = document.createElement('script');
script.type="text/javascript";
if(!false && !false && url.indexOf('colombia_v2')!== -1){
script.src = url;
} else if (!false && !false && url.indexOf('sdkloader')!== -1) {
script.src = url;
} else if (url.indexOf('colombia_v2')== -1 && url.indexOf('sdkloader')== -1){
script.src = url;
}
script.async = true;
document.body.appendChild(script);
});
}
}